Join Our Live Webinar: Equipping Your Students for the Future of Work
---
In today's dynamic job market, equipping students with the practical skills and real-world experience they need to excel in their careers is paramount. As higher education professionals, it is your responsibility to prepare your students to compete and succeed in the future of work.
To help you uncover invaluable insights from our alumni and boost student success and employability, we are excited to invite you to our live webinar on 21st June at 08:00 EST / 13:00 GMT.
This webinar is designed to provide you with practical strategies and firsthand perspectives from accomplished alumni who have achieved significant milestones in their careers.
By attending this event, you will gain the tools to prepare your students to compete in today's and future's dynamic job market.
Meet Our Alumni Panel
Our panel consists of three accomplished alumni who have successfully navigated the ever-changing landscape of the professional world. These individuals have leveraged internships and career readiness programs to propel their careers forward and are eager to share their insights with you.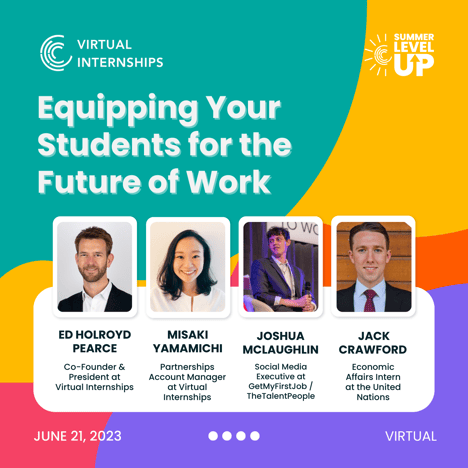 First, we have Joshua McLaughlin, a first-class Media and Communications graduate from the University of Sussex. Joshua completed a Virtual Internship with a South-Korean digital and tech start-up in 2020, which provided him with invaluable hands-on experience. Today, he is the resident social media expert at GetMyFirstJob / TheTalentPeople, where he produces data-driven content and engages with online communities to educate and empower people about different industries, job roles, working life, and career routes.
Next, we have Misaki Yamamichi, a Partnerships Account Manager at Virtual Internships. Misaki's passion lies in supporting people's career development, and she works closely with universities to help students gain global work experience and transferable skills. Misaki's own journey began with the Virtual Internships program in 2018, which opened doors to her career in the education sector, spanning both Japan and the United Kingdom.
Last but not least, we have Jack Crawford, an Economic Affairs Intern at the United Nations and Postgraduate Economics Scholar at Kyoto University in Japan. Jack's educational journey started in the UK, where he was awarded the prestigious Sir Andrew Witty Scholarship to study his undergraduate degree at the University of Nottingham. With a diverse background spanning the UK Civil Service and Virtual Internship's China Skills Training Programme, Jack is particularly passionate about sustainable development and has contributed to this cause in Malaysia, Singapore, and Tanzania. Recently, he was selected as a European Youth Representative for Economy and Environment by the Ministry of Foreign Affairs of Japan.
Introduction to the Host
Our webinar will be expertly facilitated by Ed Holroyd Pearce, President and Co-founder of Virtual Internships. Ed is on a mission to deliver online internship opportunities to students and recent graduates, improving their skills and employability in an increasingly digital world.
His experience in the field is extensive, having co-founded CRCC Asia in 2006, which provided over 10,000 students from the UK, USA, and Australasia with meaningful work experience in Asia.
Ed subsequently co-founded Virtual Internship Partners Ltd and is grateful to work with an incredible team, investors, and co-founder. His passion for supporting young talent and paying it forward shines through in his work.
Join Our Live Webinar on 21st June 2023
Don't miss out on this exciting opportunity to learn from our esteemed panelists and engage in insightful discussions about equipping your students for the future of work.
Attending this webinar will give you practical strategies to enhance student readiness, understand the importance of engagement in career-oriented learning, and learn how remote internships can support global career development and increase employment pathways for young graduates.
Join us on 21st June at 08:00 EST / 13:00 GMT to explore the ROI of work-integrated learning programs like remote internships and career readiness programs for your institution.
Spaces are limited, so register now to secure your spot and unlock the potential for your students' success!
We look forward to welcoming you to this enlightening webinar as we work together to prepare the next generation for the challenges and opportunities that lie ahead in the ever-evolving workplace.
DATE: Wednesday 21st June 2023
TIME: 08:00 EST / 13:00 GMT
PLACE: Virtual (Zoom link provided after registration)