London Calling: Entrepreneurs at the Forefront
---
When do we have the chance to celebrate a 250th birthday?
Last Friday, Co-Founder & President of Virtual Internships, Ed Holroyd Pearce, along with Jessica Bryant, MA, MSc, Alumni Experience Manager at Virtual Internships were delighted to celebrate the Samuel Wilson's Loan Trust's 250th year anniversary event at the dramatic #mansionhouse venue.
The Samuel Wilson's Loan Trust (SWLT) is a charitable organization which grants business loans to young people to establish and develop new businesses. Samuel Wilson was born in 1692 into a Quaker family and became an apprentice to his father who was a coope: a person who made barrels for wine. He joined the Coopers' livery company and gained the Freedom of the City and eventually became a wine merchant, moving to Hatton Garden in London. Upon his death in 1769, he bequeathed £20,000 in trust to the City of London Corporation to set up the loan scheme which was named after him.
The Trust offers loans to people aged between 19-39 years who have recently set up–or are about to set up–a business and who are experiencing financial difficulty or another type of disadvantage.
Loans are offered to qualifying applicants in the Greater London area and in the counties of Buckinghamshire, Essex, Hertfordshire, Kent, Surrey, East Sussex or West Sussex in the UK.
Rubbing elbows with Britain's elite
Ed and Jessica were in great company as the Lord Mayor of the City of London, Vincent Keaverny, was also in attendance.(See his Tweet about the event). As Lord Mayor of London he advises arrangers, originators, and rating agencies on structured finance, securitisation, and derivatives transactions in the UK and Europe, as well as endorsing great supportive programs such as SWLT.
The event was privileged to have eminent speakers, such as Rajesh Agrawal who spoke about the opportunities and diversity that make London such a great place to do business. Maggie Berry, OBE, director of Heart of the City introduced four previous recipients of the Samuel Wilson's Loan Trust, and described the Heart of the City as supporting small businesses to be a force for good.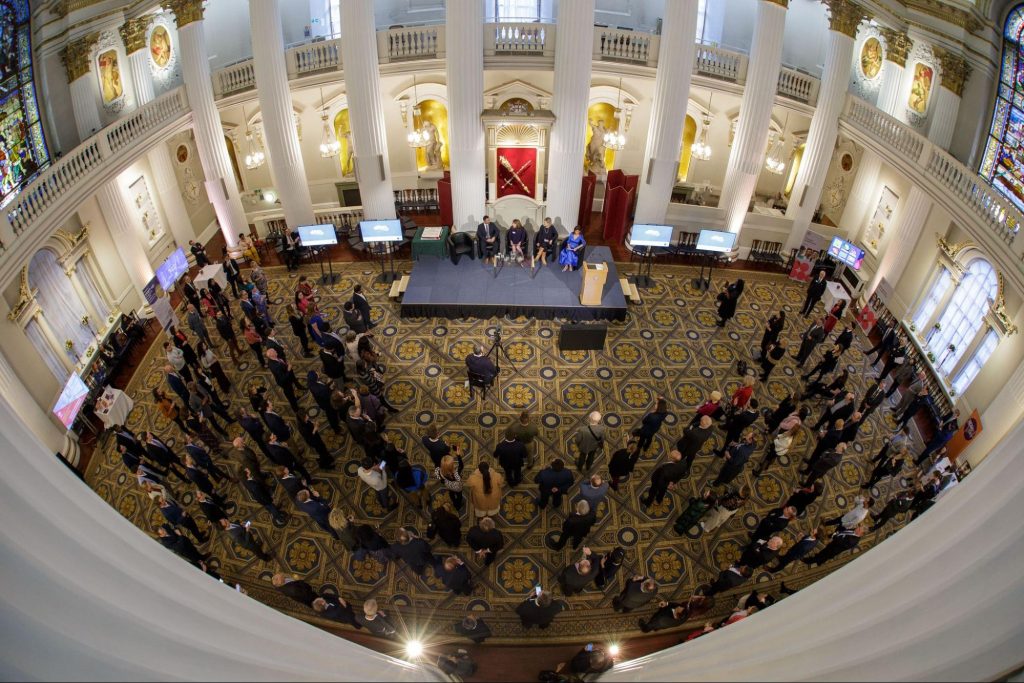 A bird's eye view of the proceedings
The Entrepreneurial Showstoppers
It was fascinating to learn about the rich history of this loan that has helped so many young company owners realize their dreams and to hear how London has such a vibrant and diverse set of go-getters who are supported by SWLT.
However, the real scene-stealers of the evening were the latest recipients of SWLT funding. Several years ago, Maria Almena received the loan to support her creative performance work at Kimatica Studio. Barbara Biosah, founder of fashion Label Dumebi, spoke about the excitement of using the loan to fund premises for her business.
Equally enthralling was the story of Marisa Battrick, CEO of Truthpaste, an antibacterial & anti-inflammatory toothpaste that is vegan and cruelty-free and which claims to "change the planet one smile at a time". Marisa used the loan to support the purchase of an automatic filler machine, massively speeding up production.
Alex Tucker who founded Lex Marquee Hire gave a visceral account of the troubles the pandemic had caused his business, then ended on a lighter sales push for his luxury marquee rentals.
Listening to all these individuals, and being asked to reflect on the key attributes which make an successful business, Virtual Internships felt very proud to be a small part of #London's #Entrepreneurship story.