Virtual Internships Takes Silver Medal at QS Reimagine Education Awards
---
At the tail end of 2022, QS Reimagine Education, in conjunction with The Wharton School of Business and the Learning Lab, put on a two-city, two-continent event simultaneously in Philadelphia, USA, and Cairo, Egypt. An incredible feat!


The New Remarkable
The 8th edition of the QS-Wharton Reimagine Education Conference united global thought leaders, innovators, Edtech-preneurs, university leaders, and employers, all who positively impact the future of learning, the future of universities, and the future of work.
Virtual Internships was represented in Cairo by our President and Co-Founder, Edward Holroyd Pearce and, our Sales Development Representative for University Partnerships, Nicole Casale represented from the US.
The theme was The New Remarkable, and it brought out dynamic Edtech thought leaders and innovators. Workshops honed skills for online leadership and teaching skills. Attendees dove into how to build new products, integrating gamification and game design. Exciting topics included:
AI for Learning

Reimagining Access to Knowledge

The Entrepreneurial University

Learning in the Metaverse

Designing Education for Collective Intelligence

Preparing Students for the Careers of the Future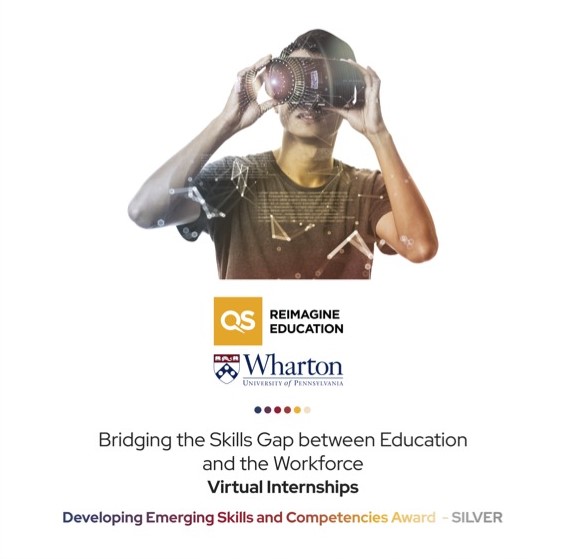 The Oscars of Education
The highlight of the event was the prestigious awards. Virtual Internships was lucky enough to be named within The Future of Work category. The category captures effective ways to educate work-ready graduates, develop 21st-century skills, and foster lifelong learning in a world increasingly and pervasively transformed by AI and machine learning.
The subcategory was for the Developing Emerging Skills and Competencies Award. We recognize that one of the most pressing concerns for students leaving education and heading into the workforce is the skills gap. Employers expect specific knowledge from junior employees, and universities are not always able to give the practical experience that provides students with desired skills.
With over 250,000 opportunities worldwide, we work with you to offer your students the opportunity to work remotely for global companies, learning all they can about a new industry, and building up their skills toolkit along the way. Your students are guaranteed a internship match with their chosen career field or region, and 1 in 3 of our interns are offered a position with their host company immediately upon completion.


Find Out More about Partnering with Us
There were 3000+ people in attendance at the awards, from 93 countries, with more than 1,000 entries for the awards, and 87 winners. We are very proud to be recognized as a leader in the Future of Work category.
If you're looking to boost the ROI of your institution's offering, and increase the work-readiness of your students, then reach out to us for a demo: